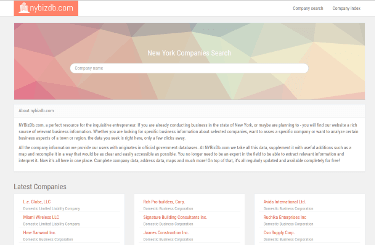 Entrepreneurs, marketers and other users in search of practical information about businesses located in the state of New York now have a new resource at their disposal.
On NYBizDb.com, a few clicks are just enough to gain access to full company profiles featuring essential business information. Users can then asses a particular company, or analyze a town or region in the state of New York in terms of its business activity.
NYBizDb.com is a comprehensive business directory full of actionable data and optimized to match the needs of business owners, market analysts and other internet users who want to learn more about businesses in New York.
NYBizDb.com features information about all kinds of companies: large, mid-sized and small enterprises located or registered in the state of New York. The company data featured on the platform is easy to find and constantly updated.
It leaves no room for doubt that the state of New York is home to thousands of companies. How can business owners and entrepreneurs makes sense of such a dynamic business scene?
One way to understand the market is through researching business directories. However, these are often limited and provide rudimentary data.
At NYBizDb.com, users need to provide some details and they're guaranteed to get a range of results that match their search query. As expected, the more detailed the input data, the more narrowed-down the search results will be. NYBizDb.com helps users to use their research time efficiently by instantly providing all the data they need.
What kind of company data can users find on NYBizDb.com?
Every company profile offers a wide range of information. Users can have a look at details such as the company's name (DOS process name), type, full address, date of establishment, and jurisdiction.
Every company page also shows critical data about the company's management, displaying the name of its CEO together with their contact address.
NYBizDb.com also shows some data about the company's registered agent, featuring their name and address.
On top of all that, users can also check the company's DCA license details which includes information such as the business name, DCS license number, license type, category and expiration date, full address and other details. For example, checking a company called L.e. Globe, LLC, the details section states the following: "Sidewalk Cafe Type: Unenclosed, Square Feet: 565, Tables: 18, Chairs: 60". That type of information is of great value to entrepreneurs screening the local market.
Searching for information on NYBizDb.com is a piece of cake – the user-friendly interface and easy search modalities help NYBizDb.com to stand out from the crowd.
How can users search for companies?
When searching for a business, users can type in its name, city, postal code, or pick one of the company categories available in a drop-down list.
For example, if a user inserts a zip code and picks a category such as "Domestic Limited Liability Company", they'll be presented with a list of results that match their query for that particular geographical zone in the state of New York.
NYBizDb.com is a functional database which puts the needs of its users first, combining state-owned data into comprehensive and accessible company reports. Instead of browsing through hundreds of individual pages, users can now perform a simple search and get all the information they need.
With complete and updated company profiles, NYBizDb.com offers plenty of insightful data which is now within the reach of every user who'd like to learn more about the business scene of New York.
If you liked this article, why not share them with the world? Tweet, share on Facebook or give us a plus one. Thank you.