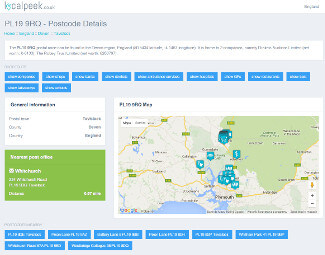 It's easy to see that the internet today offers tons of information about literally every single topic. Still, practical information falls into a market gap. Users who would like to quickly learn about providers, shops and services located in their vicinity can either struggle with the multitude of data offered by search engines or be at the mercy of online directories. These are often extremely hard to navigate and feature outdated or fragmentary data.
The above are clearly not fit the kind of quick research most users have in mind. Who has the time to go through multiple entries to find a telephone number of the nearest Thai restaurant? Hardly anyone. Localpeek.co.uk is a platform dedicated to this type of online searches. It perfectly addresses this consumer need by offering users key information about UK schools, businesses, healthcare providers, restaurants, banks and many more ordered by their postal codes.
Arranging this immense amount of information according to postal codes, Localpeek.co.uk helps users to effectively find information about services located in the vicinity of a specific postal code.
All it takes is typing in a postal code and Localpeek.co.uk will generate an interactive map with all relevant spots marked with signs suggesting their category. Clicking on a particular section, users can see all relevant shops and providers in the area.
Those looking for restaurants will be presented with a complete view of eateries and cafes operating under one postal code. For every locale, Localpeek.co.uk shows a complete address, distance from current location and the restaurant's rating, displayed together with its date to help users make the right choice.
Another interesting category is healthcare. Localpeek.co.uk provides users with a complete list of healthcare providers ranging from local dentists to ambulances. This is really helpful to users who need quick medical care, but want to choose the right type of facility – Localpeek.co.uk shows complete addresses, provider type, distance from current location and updated phone numbers.
Users interested in the local business scene will find Localpeek.co.uk helpful as well. It lists all banks and companies which operate in a given area. Every such profile includes a complete address, as well as phone and fax numbers to help users in easily reaching out to these companies.
Localpeek.co.uk is also useful for parents who are about to choose schools for their children. The platform not only displays a selection of local schools, but also provides users with their rank in rankings prepared for different education levels.
Tourists interested in exploring local areas will also benefit from the platform's practical data about all interesting places and attractions. Users who would like to check local property pricing will easily find that type of information as well. Localpeek.co.uk also offers complete neighbourhood profiles stating their total population or complete list of addresses.
Making data accessible to average internet users, Localpeek.co.uk is a one-of-a-kind online database. It offers lots of practical information on a user-friendly and well-structured layout which only helps users in finding data they're after. With a single postal code, they can explore the neighbourhood and learn more about it thanks to the immense functionalities implemented on Localpeek.co.uk.
If you liked this article, why not share them with the world? Tweet, share on Facebook or give us a plus one. Thank you.