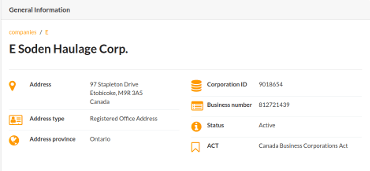 Canadabiz.net aims to provide its users with comprehensive datasets concerning companies operating in various business sectors all around Canada, from Vancouver to Alert. Thanks to this innovative platform, gathering information about businesses has never been so simple.
Every entrepreneur, business owner and client understands the importance of having up-to-date information when it comes to researching a particular business sector. Relying on uncorroborated sources only leads to misunderstandings and frustration. There is no denying that the Internet is the most popular tool for conducting corporate research, however it often happens that the information found on the World Wide Web is misleading. Oftentimes one can find contradictory data about business profiles, inaccurate addresses or incorrect phone numbers, because the data on many business directories is not regularly updated. In order to end the disinformation and to organise and structure data about Canadian companies that is published on the Web, the team behind Canadabiz.net decided to design an extensive database of knowledge about companies registered and operating in Canada.
Canadabiz took an unusual route – it collected the information about Canadian businesses from official websites, incorporation documents and government databases, analysed it thoroughly and put together an all-encompassing business directory to fit the needs of everyone looking for reliable source of information. The next step was to come up with a way to present the data in the most user-friendly way possible. When you open the site you will immediately notice modern and minimal web design which makes the site extremely readable. At first sight, you can get the impression that a lot of thought has been put into the layout. The database features company index where you will see the names of all businesses researched by the analysts at Canadabiz. Each company has its own profile page where you will find full legal name of the business, its physical and mailing address, province, status, corporation ID and business number. Given the fact that companies in Canada may be incorporated federally, under the Canada Business Corporations Act, or provincially under a similar provincial law, you will be also presented with a particular act under which a company has been legally set up. Next comes the description of business activities and incorporation details, such as incorporation date and administrative division. An innovative feature of the database enables you to view additional companies operating in close proximity to your researched business. Beneath you will find a Google-powered map, variation of company's names, name history, list of former and current directors and information about annual returns. With all of that, not only a skilled researcher or an experienced corporate analyst, but also an ordinary client will be able to put together a complete business profile and draw logical conclusions about the state and stability of the company.
The process of choosing and finding suitable business partners or contractors should always be preceded by extensive research. Canadabiz.net was designed to limit the number of futile Internet searches and to speed up the entire data gathering process. With this virtual tool, you have all the information you might need in one convenient location, so bookmark the site on your phone or tablet and enjoy it completely free of charge.
If you liked this article, why not share them with the world? Tweet, share on Facebook or give us a plus one. Thank you.